FTD eBiz Marketing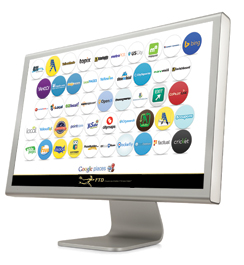 FTD eBiz Marketing can help you grow your local business with a new and improved online directory marketing program. Update your business information on 50+ local and national directories reaching 150 million monthly users1.
Do You Know?
78% of local mobile searches result in an offline purchase2
20% of local searches online return incorrect information impacting search engine results and potential sales3
Incorrect business listings cost $10 billion a year in lost sales3
63% of people that search for a local business make a purchase within a few hours4
Check to see how your business listings appear online.
Scan Now
SILVER
GOLD
50+ Local and National Directory Listings
✔
✔
Yelp Listing
✔
✔
Claim and Maintain Google My Business Listing
✔
Online Review Alerts
✔
Access to Listings Management Tool
✔
Your Monthly Fee
$45
$89
Contact FTD Florists Online at 866.926.5197 for more details.
1 Yext YouTube video, March 2013
2 Search Engine Land, April 2014
3 Yext.com
4 Televox