Quality Star Program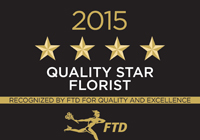 The FTD Quality Star Program provides your shop with a benchmark to show how it compares to all florists within the FTD network. This program is a great tool that provides a uniform and consistent measurement of quality for FTD Florists. The FTD Quality Star rating takes actual, quantitative order data and calculates an exemplary quality level. FTD Florists that are at or above this "quality bar" will receive an FTD Quality Star. The rating is recalculated every four months and details are printed in the monthly Clearinghouse Statement. FTD Florists can choose to share their quality rating in Florist Link.
The Quality Star rating is calculated by adding Delayed Response Policy charges and FTD.com refund charges and dividing it by your total florist to florist and FTD.com order values filled in a four month period. The quality rating must equal 1.1% or less during the four month period in order to receive an FTD Quality Star. Only member florists that fill a minimum of 100 incoming orders or more in the four month period are eligible to receive the FTD Quality Star.
If you do not fill 100 or more incoming orders within the four month rating cycle, a quality rating can still be calculated, but the florist is not eligible to receive an FTD Quality Star.
Questions? Contact FTD Member Services at 800.788.9000 or email FTD Quality at qsr@FTDi.com for additional information.