FTD Delivery Service
On-Demand Pick-up & Delivery Program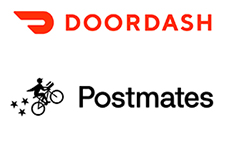 The FTD Delivery Service is an online platform designed to help manage your delivery needs. FTD has partnered with DoorDash and Postmates to give you access to a network of local professional delivery drivers - 7 days a week, 365 days a year.
Fully integrated with Mercury Cloud or available for Mercury Point of Sale users at www.FTDDeliveryService.com, the benefits include:
Labor savings. Reduce dependency of full-time drivers.
Vehicle savings. Fuel, maintenance, insurance, wear & tear, etc.
Flexibility. Alternative if your driver is unavailable. Schedule deliveries 24/7/365.
Delivery speed. Same day or timed delivery options.
Increase capacity. Deliver more local & wire orders during your peak times.
Professional delivery drivers. Better customer experience. Real-time email and/or text delivery confirmation.
No monthly fees. Pay per delivery when you use the service.
Program Instructions
Click the images below for instructions on how to create a delivery service order.
Program Details

🕒 Service Types
💲 Delivery Charges
🚚 Pick-Up/Delivery
🗺️ Delivery Area
Afternoon:
Pick-up at 3:00 p.m., delivered by 3:30 p.m.
Time Specific:
Request pick-up between 9:00 a.m. thru 7:30 p.m.
Delivered 30 minutes after pick-up time.
Drivers require 30 minute notice before pick-up time
FTD Delivery Service currently available in the United States only.
Afternoon:
$11.00 per delivery address
Time Specific:
$13.00 per delivery address
Conveniently billed to your FTD Clearinghouse Statement
Delivery is available 7 days a week, 365 days a year
5 to 10 mile radius from shop/pick-up location
Program FAQs
How do I login to FTDDeliveryService.com?

All FTD Members have been setup with a login for FTDDeliveryService.com. Enter either your FTD Member Number as both the User Name and Password (will be case sensitive), or enter the same credentials that you are currently using to login to the FTDFlowerExchange.com website. If you need help, please contact us at 888.556.7424.

Why does the delivery driver only take one order vs. multiple orders?

Batch pick-up and delivery is not part of the delivery service at this time. It is the driver's goal to deliver flowers to your customers as quickly and efficiently as possible.

How many items will the delivery driver take to the recipient?

The driver will take all items for a specific order going to a single delivery location.

Can a delivery driver take large funeral items?

Large funeral items cannot be delivered using the delivery service.

What does the delivery driver do if the Recipient is not at the delivery location?

The driver will return the item(s) to your floral shop.

Do I have to pay for redelivery?

Yes. The delivery fee will be charged if a driver has to redeliver any item(s).

What if I don't want to use the delivery driver when he/she arrives to pick-up item(s) for delivery?

You can request a new driver.

How do I receive Delivery Confirmation?

Mercury Cloud is integrated with our delivery partners. Orders are confirmed in real-time once they are delivered by the delivery partner.

Is the FTD Delivery Service available in Canada?

At this time the delivery service is only available in the United States.