Makeover Magic by FTD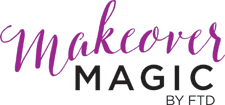 Win the shop makeover of your dreams
Your shop's appearance makes just as big an impact on your customers as your floral creations. A fresh coat of paint, new fixtures and refined merchandising can create a space as visually interesting as your designs. FTD is ready to turn a dream interior into reality for the lucky winner of our fifth annual Makeover Magic contest.
To qualify, join us live on Tuesday, August 16, 2016 for Maximize Your Merchandising Potential, a free webinar designed to help you optimize immediate purchasing and merchandising possibilities while incorporating the latest trends.
Webinar participants will then have the opportunity to enter the Makeover Magic contest to win a FREE makeover for your flower shop storefront by FTD Education Consultant J. Keith White AIFD.

To enter the contest:
Register and participate in the Maximize Your Merchandising Potential live webinar on August 16, 2016.
Submit a 75-word essay explaining why your shop interior deserves a makeover.
Submit 1 or 2 photos of your shop's current interior space & storefront window design.
All submissions must be sent to floristrelations@FTDi.com by midnight Pacific Daylight Time on Wednesday, August 17, 2016.
View the Official Contest Rules: United States and Canada (excluding Quebec)