FTD University / Education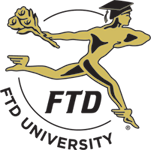 FTD University can help you enhance your skills to improve profits and drive business to your shop. We offer a suite of education programs for any size budget that FTD Florists can access online or on-site at FTD Headquarters for a personal one-on-one experience. Only FTD Florists can participate in these valuable programs created to strengthen your business and design skills. Join us for one, or several, of our education programs this year, and learn helpful tools to grow your business.
FTD University programs are taught by FTD Education Team members, who are all AIFD designers, and industry-recognized business experts.
If you have questions regarding any of the FTD education programs, please contact us at 800-788-9000 ext. 6240 or education@FTDi.com.