Path to Orders

As a professional retail florist, your customer's satisfaction is a major business focus. It is also a priority for FTD because it creates a positive flower-buying experience and leads to repeat purchases, creating a win-win for you, the consumer and FTD.
To boost customer satisfaction, FTD is focusing on landing the right order with the right florist at the right time to create a successful delivery. To achieve this, FTD's Path to Orders reviews five critical components before sending an order to a florist.
There are five Path to Orders components and actions you can take to help improve customer satisfaction and increase your opportunity for FTD.com orders:
Keep your Mercury system on and accepting orders.

FTD only sends orders to Mercury systems that are live and online.
Suspended systems are not eligible for future orders.

Purchase Holiday and Everyday codified containers.

Try a combo pack of containers if you don't want to commit to a full case of one item. Call FTD Marketplace at 800-767-4000.

Review and manage your delivery area and cut-off times with FTD.com.

You can review your cities and ZIP codes with your FTD National Marketing Consultant at 800.788.9000.
You can set different cut-off times (11 am or 2 pm) for each ZIP code to maximize your delivery footprint and ensure successful deliveries.

Fill and deliver every order with excellent quality.

Meet customer and recipient expectations by filling orders to recipe, following proper care and handling procedures and being familiar with the FTD Substitution Policy.

Limit questions about substitution and additional funds or rejecting orders you agreed to fill when you purchased the codified product.

As a professional, you know what constitutes a proper substitution and the FTD Substitution Policy can guide your decisions. It is also important that you commit to filling all sizes of codified bouquets. If you are out of a codified container you should contact FTD.com at distributiongroup@ftdi.com or send a GEN message to 90-0075AA to temporarily uncodify from receiving those orders.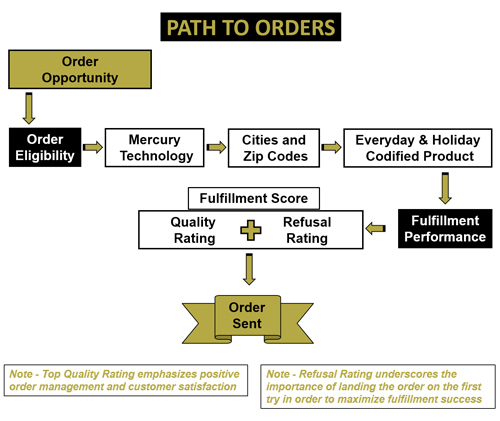 If you have questions about the Path to Orders, please contact FTD Member Services at 800.788.9000.