Your Marketing Centerpiece
Transform your website into the centerpiece of your flower shop's marketing efforts. The new eCommerce solution from FTD will redefine the floral website experience and help grow your online business.

FTD's new website will allow you to customize the site to share your brand and attract customers to achieve your business goals.
Mobile-friendly and Secure
Our mobile-friendly sites will adapt to the way your customers shop - mobile, tablet and desktop.
And, you can put your mind at ease knowing the site is secure to protect you and your customers' data.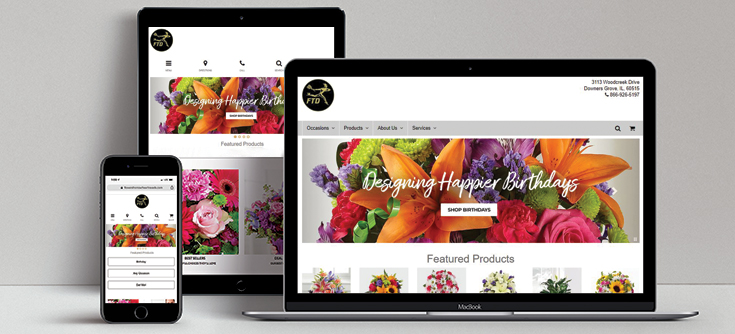 Easy to Use for You & Your Customers
You will have the ability to add custom products to generate additional revenue from your site. Plus, you can easily update content pages to optimize your placement in organic (FREE) search engine results.

The user-friendly navigation is designed to enhance the shopping experience and make purchasing easier.
Results-Driven Traffic to Your Website
| | |
| --- | --- |
| | |
Frequently Asked Questions
Why an FTD website?

Our new websites are agile and state-of-the-art. We have worked with top tech developers to provide the best resources and ideas. The sites are designed to continuously improve and adapt to changing technology and new innovations to help you compete in the floral market.

How will an FTD website benefit my flower shop?

Our new platform features a customizable and secure website with great functionality to enable you to share your brand's story and connect with customers online.

Easily upload your custom products and add-ons to generate additional revenue. Update images and merchandise to your homepage to drive customers to the products you want to sell-thru.

Is the site mobile-friendly?

Yes, the website is responsive meaning it will adapt to a desktop, tablet or mobile depending on the device being used by the customer to buy flowers and gifts from you.

What is the process for setting up a new site?

Once you complete the application process, one of our eCommerce Specialists will reach out to you within 10 business days to walk through your new website and help you customize it.

What are the fees associated with a new FTD website?

There is no set-up fee and the monthly subscription fee is only $99 per month for hosting the site. A $3.99 fee per order will be charged.

Will FTD help me drive traffic to my new website?

Absolutely! In addition to our current online marketing solutions like email marketing, pay-per-click advertising and online ratings and review, the sites have been built to leverage all the best in class SEO tactics which are both technical and human involved. We will have a dedicated resource to assist in creating custom content for each site to supplement the human involvement.


The website solution you've been asking for from FTD is here. Your floral expertise and the power of FTD's technology will redefine the floral website experience and help you grow your business.