In-store Merchandising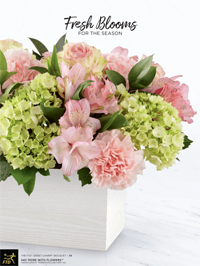 As a benefit of purchasing FTD codified containers, you will receive FREE seasonal promotional marketing kits for in-store merchandising. Attract more customers and potentially increase sales with these beautifully designed promotional items displaying FTD codified exclusive products to promote in your shop.
The in-store point-of-purchase merchandising kits, sent out twice yearly, are automatically sent to you and include:
Full-color posters of FTD holiday codified exclusive products to display in your shop
A workroom calendar complete with holidays and a marketing schedule for help with
in-store marketing (Fall/Winter kit only)
If you do not purchase any of the FTD holiday codified containers by July 1, 2020, you will be charged $19.99 on your FTD Clearinghouse Statement for the FTD Point of Purchase (POP) kit. If you do not wish to receive the Fall/Winter 2020 POP Kit, Click Here to opt out.
If you have already opted out of receiving any POP Kits in the past, you will remain on the opt out list for any future mailings. If you would like to opt back in, please contact Member Services at 800.788.9000.
View/Download the 2020 FTD Posters